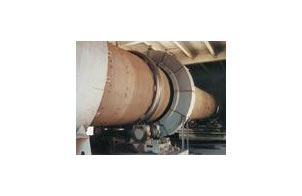 Rotary Dryer
Description of Rotary Dryer:
Our rotary dryer is typically designed for reducing or minimizing the liquid moisture content of the materials like slag, clay, limestone, etc. And it is widely used in fields of cement, chemical engineering, metallurgy, building material, and so on.
It is mainly comprised of rotary part, striker plate (it is used to block materials), transmission equipment, and supporting device. And it is characterized by high drying capacity, stable performance, low energy consumption, high productivity, and more.
The working principles of this rotary dryer are as follows: its lifting plate can throw and scatter materials into the rotating cylinder, and the hot air will carry away the moisture in the materials. The moisture will turn into water vapor to be discharged into the atmosphere for drying.
Parameters of Rotary Dryer:
Model (m)
Diameter (mm)
Length (mm)
Capacity ( t/h)
Speed (r/min)
Inclined degree (%)
Motor
Speed reducer
Weight (t)
Model
Power ( kw)
Model
Ф1.5×12
Ф1500
12000
6-9
1.4-7
5
YCT-225-4B
15
JZQ500
18.6
Ф1.5×14
Ф1500
14000
7-10
1.4-7
5
YCT-225-4B
15
JZQ650
17.9
Ф1.6×14
Ф1600
14000
8-11
1.4-7
5
YCT-225-4B
15
JZQ650
18.6
Ф1.8×14
Ф1800
14000
9-13
3.5-6.5
5
YCT-225-4B
15
JZQ650
20.85
Ф2.0×14
Ф2000
14000
11-16
2.2-7.4
5
YCT-250-4A
18.5
JZQ750
23.2
Ф2.2×12
Ф2200
12000
12-17
2.2-7.4
5
YCT-250-4B
22
JZQ750
30.3
Ф2.2×14
Ф2200
14000
14-20
2.2-7.4
5
YCT-250-4B
22
JZQ750
32.23
Ф2.4×18
Ф2400
18000
21-31
2.2-7.4
4
YCT-280-4A
30
JZQ850
45
Ф2.4×20
Ф2400
20000
23-34
2.2-7.4
4
YCT-315-4A
37
JZQ850
54
Ф2.4×22
Ф2400
22000
26-38
2.2-7.4
4
YCT-315-4A
37
JZQ850
58
Ф2.6×20
Ф2600
20000
28-40
2.2-7.4
4
YCT-315-4B
45
ZQ100
60.5
Ф2.6×24
Ф2600
24000
33-48
2.2-7.4
4
YCT-315-4B
45
ZQ100
72.7
Ф3.0×20
Ф3000
20000
35-54
8.4-3.85
4
YCT-355-4A
55
ZL100
86
Ф3.0×25
Ф3000
25000
46-64
8.4-3.85
4
YCT-355-4B
75
ZL100
96
Ф3.0×28
Ф3000
28000
52-74
8.4-3.85
4
YCT-355-4B
75
ZL100
122
Ф3.2×25
Ф3200
25000
60-80
2.4-7.6
4
YCT-355-4C
90
ZL115
119
As a professional manufacturer and supplier of rotary dryer in China, Jiangsu Pengfei Group Co., Ltd can also provide you with various other machines, such as fluidized bed furnace, double drum rotary dryer, cement production line, cement grinding plant, industrial kiln and furnace, grinding equipment, crushing equipment, environmental protection equipment, cooling equipment, drying equipment, compound fertilizer equipment, packing machine, chemical equipment and electrical control system. Most of our products have passed the certification of ISO9000 and CE, and they have been quite popular among customers from as many as 60 countries and districts such as Germany, Russia, Brazil, Egypt, Iran, Japan, South Korea, Bengal, Pakistan, Turkey, Burma, Vietnam, South Africa, Columbia, Bolivia, etc. If you need rotary dryer, please don't hesitate to contact us.
Related products
Fluidized Bed FurnaceThis fluidized bed furnace is mainly used to scatter fine particle coal into the hot air furnace, where the coal can be burned. Inside this furnace, the coal can get a burning rate of 98%, and its heat efficiency can be as high as 95%...
Double Drum Rotary DryerOur binocular rotary dryer is developed on the basis of traditional monocular rotary dryer structure, and with significant breakthrough and innovation in technology, it has more advantages over other kinds of dyer...